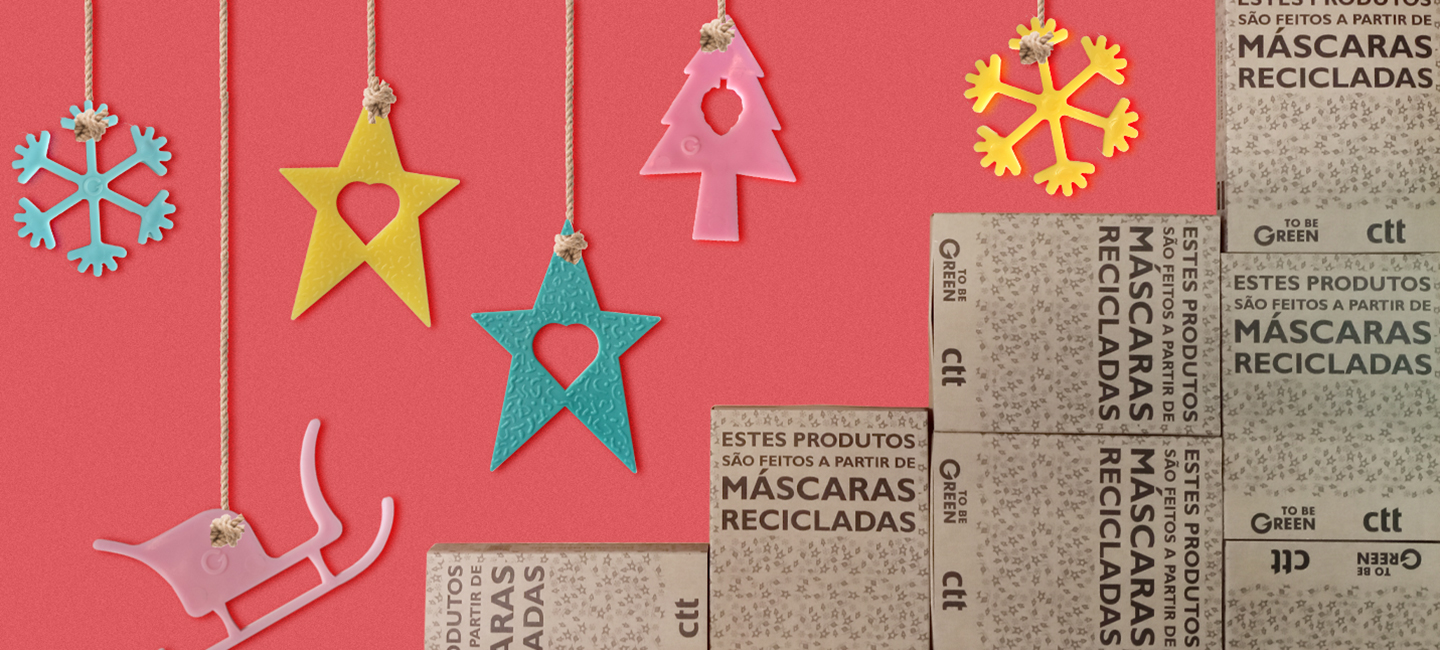 To Be Green aims at reducing the environmental impact associated to the use of disposable masks when fighting the Covid-19 pandemics. These masks are usually thrown into the general waste containers.
The masks used are recycled and converted into resistant polypropylene polymeric structures, useful for multiple purposes.
All these waste collections, transport and processing are made according to the strictest safety conditions to ensure the non-contamination of the virus.
The new products that are created as of used disposable masks are transformed into small Christmas decorations such as sleds, stars, trees, and snowflakes to decorate your Christmas tree.
The 4 Christmas decorations packs are available in 50 CTT Post offices throughout the country, but also online
Solidary Project

This project is also solidary:
The boxes, made from recycled cardboard, are produced by Centro Juvenil de São José de Guimarães, an institution that helps children in risk of social exclusion.
For each pack of 4 decorations sold, 2€ are to help Cáritas Diocesana de Viseu
By taking part in this initiative, you are contributing to the promotion of a more responsible consumption and to the development of a better life for these young children.
Contribute, and this Christmas give your home a more sustainable glow!
| | |
| --- | --- |
| CTT Post offices | Locality |
| Post office Laranjeiro | Almada |
| Post office Amadora | Amadora |
| Post office Barcelos | Barcelos |
| Post office Avenida | Braga |
| Post office Maximinos | Braga |
| Post office Agualva - Cacém | Cacém |
| Post office Caldas | Calda da Rainha |
| Post office Caldas das Taipas | Caldas Taipas |
| Post office Fernão Magalhães | Coimbra |
| Post office Covilhã | Covilhã |
| Post office Ermesinde | Ermesinde |
| Post office Espinho | Espinho |
| Post office Fafe | Fafe |
| Post office Faro | Faro |
| Post office Felgueiras | Felgueiras |
| Post office Zarco | Funchal |
| Post office Gondomar | Gondomar |
| Post office Lameiras | Guimarães |
| Post office Benfica | Lisboa |
| Post office Cabo ruivo | Lisboa |
| Post office Lumiar | Lisboa |
| Post office Oriente | Lisboa |
| Post office Restauradores | Lisboa |
| Post office Maia | Maia |
| Post office Marrazes | Marrazes |
| Post office Odivelas | Odivelas |
| Post office Paços Ferreira | Passos de Ferreira |
| Post office Penafiel | Penafiel |
| Post office Pombal | Pombal |
| Post office Vasco da Gama | Ponta Delgada |
| Post office Ponte de Lima | Ponte Lima |
| Post office Teixeira Gomes | Portimão |
| Post office Boavista | Porto |
| Post office Bonfim | Porto |
| Post office Eça de Queiroz | Porto |
| Post office Marquês De Pombal | Porto |
| Post office Palácio dos Correios | Porto |
| Post office Santarém | Santarém |
| Post office Santo Tirso | Santo Tirso |
| Post office São João da Madeira | São João da Madeira |
| Post office Paivas | Seixal |
| Post office Bonfim | Setúbal |
| Post office Torres Vedras | Torres Vedras |
| Post office Valongo | Valongo |
| Post office Viana do Castelo | Viana do Castelo |
| Post office Vila Nova de Famalicão | Vila Nova de Famalicão |
| Post office Vila Nova de Gaia | Vila Nova de Gaia |
| Post office Vila Real | Vila Real |
| Post office Abraveses | Viseu |
| Post office Viseu | Viseu |