CTT issues stamp on Batman
10 September, 2020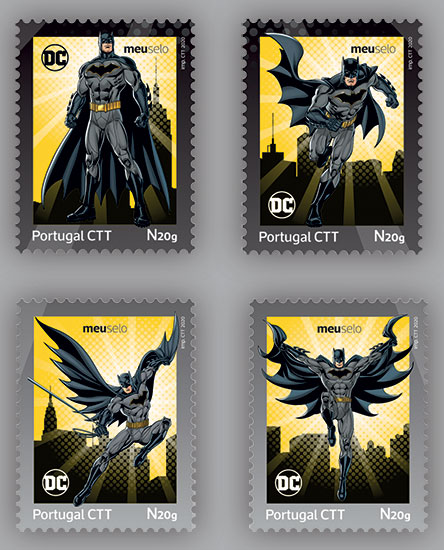 Last February, CTT – Correios de Portugal presented a philatelic issue on the DC Comics movies, one of the major North-American comics producers. It has personalized stamps on the worldwide famous characters: Harley Quinn, The Joker, The Flash, Superman, Wonder Woman and Batman.
This September, CTT presents the last one of six characters, Batman, a very important western pop culture reference.
When buying the 6 collectors' sheets (from Batman and the other characters), customers have a 15% direct discount, online or at a CTT post office.
This collection has a 30X40cm collector's sheet (including the Batman personalized stamps) with limited editions, with a commemorative stamp, and a 4-stamp booklet for domestic use up to 20g.
The stamp has been recognized worldwide as an important source of information on very different subjects for a long time: from a country's natural and cultural heritage to fundamental international matters. Lately, philately has been focused on new themes, that may capture a younger audience to the world of stamps and collections.
The booklets will cost 2.12€ and the collector's sheets 7.50€.
Recently, CTT issued stamps on the Justice League. This philatelic issue is composed by six stamps, one for each of the characters: Superman, Batman, Wonder Woman, Aquaman, The Flash and Cyborg in the film directed by Zack Snyder. This issue celebrates the premiere of the Justice League film with a fantastic cast: Ben Affleck, Henry Cavill, Gal Gadot, Jason Momoa, Ezra Miller and Ray Fisher. It is composed by six stamps worth 0.91€ each, 130 000 units. The booklets cost 2€ (50 000 units) and the collector's sheets are numbered and limited to 4000 units, including the six stamps and the booklet.
This is not the first issue on these subjects: last November, CTT issued stamps on the Harry Potter universe, in a partnership with Warner Bros. Consumer Products. In 2017, in a partnership with The Walt Disney Company Portugal, CTT issued stamps on Star Wars.